X Toh Festival
Tenth Yucatan Bird Festival Toh
Nov 25, 2011 - Nov 27, 2011
The Yucatan Bird Festival "TOH" takes place in a state which has traditionally served as the region's cultural center. It's a perfect place to combine birds with visits to Maya archeological zones and rural indigenous communities. Join us for well-packed three days of birding in company of local guides. Yucatan is home to 445 of the 548 bird species registered for the entire peninsula.
There are exhibits and conferences in the colonial city of Merida prior to going afield. An important and fun part of the festival is the birding competition for all levels of abilities called xoc ch'ich – word in maya that means "bird count".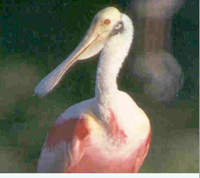 The festival is just a part of the local birding activities taking place this year in Valladolid, which includes workshops for children and adults, bird marathons, bird and song recording for guides. The travel agencies are actively participating in offering festival packages, as well as alternatives for pre and post tours. Come and celebrate with us the 9th Yucatan Bird Festival!