K'ak'-u-pakal, Hun-pik-tok' and the Kokom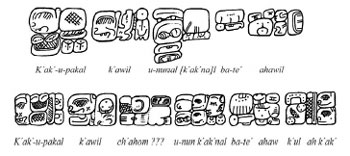 The hieroglyphic texts from Chichén Itzá reveal a particular emphasis on the buildings of the city. Some of the more conspicuous structural elements, like facades, doorways, lintels, and jambs are mentioned as being carved and finished at specific dates. Following the terms of these architectural features, one encounters the names of individuals who owned or sponsored entire buildings as well as single rooms in them. These names are constituent parts of rather elaborate phrases which feature titles, special occupations and offices, as well as genealogical and ethnical terms (Davoust 1980; Kelley 1982; Krochock 1988; Ringle 1990; Grube 1994; García Campillo 1995; Wagner 1995).

Among the names of the 57 male and 7 female individuals identified so far in the inscriptions of Chichén Itzá, there are two which are also mentioned in historical sources from colonial times: K'ak'-u-pakal and Hun-pik-tok' (Kelley 1968b; Schele and Freidel 1990: 498, Note 16; Wagner 1995: 45-92, 129-133). Also, the glyphic expression for the Kokom dynasty who figure so prominently in the late history of Yucatán, when the location of the peninsular
political center had been shifted to Mayapán, has been identified in two inscriptions at Chichén Itzá (Grube and Stuart 1987; Grube 1994: 327).
Among the dates which introduce the hieroglyphic texts at Chichén Itzá there is but one Initial Series date: 10.2.9.1.9 9 Muluk 7 Sak (July 30, 878 A.D.)1. This date is recorded on the lintel which was found in structure 5C4 and which gave this building its present-day-name: The Temple of the Initial Series. All other dates at Chichén Itzá are recorded in the Short Count fashion (Thompson 1937, 1950: 197-204). As a result emerges a definite period of only 65 years, from 10.0.2.7.13 (832 A.D.) till 10.3.8.14.4 (897 A.D.), with the Initial-Series-date being positioned roughly in the middle between these two extremes (Grube 1994: 325, 344;
Krochock 1995: 1-2).
The uniform style of hieroglyphic carvings2 and the coherent architectural layout of the buildings into which the hieroglyphic texts are embedded suggest that these buildings and their hieroglyphic texts are contemporaneous (cf. Lincoln 1990). The content of these texts,
when viewed in connection with the short period of dates which accompany them, suggest that they describe the first phase of building activities at Chichén Itzá, i.e. the period when the city was founded (cf. Landa 1959: 13). This suggestion is supported by the fact that in some of the buildings bearing inscriptions, e.g. Caracol, Las Monjas, Temple of the Initial Series, the inscribed stones were obscured, covered by or reused in later constructions (Ruppert 1935:
135-143; Bolles 1977:145; Morley 1927: 135).
Updated: Sep 16, 2005 - 19:08
Created: Sep 01, 2004 - 17:14

Download this document in PDF format using the icon. You'll need Adobe Acrobat Reader to view the file.

File Download