Custom Made Tours Designed for You and Your Group
Aquí presentamos algunos de nuestros tours. Recuerde que nuestro "fuerte" es la creació de TOURS UNICOS EN SU CLASE, de tal forma diseñados que los intereses y necesidades de usted son el principal ingrediente.
Caribe Maya

Add to Cart
Visita ciudades coloniales y joyas arqueológicas, entre ellas, Chichén Itzá, Ek Balam y la enorme pirámide de Coba. Observa también mamíferos, especies endémicas de aves y su entorno subtropical.
Tendrás la oportunidad de snorkelear en los cenotes, caletas y arrecifes caribeños convirtiéndose esta excursión en una experiencia incomparable.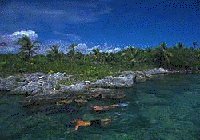 Tour's Schedule
Día 1: Llegada, recepción y traslado al Hotel. Cena. Pernocta en el Maison Lafitte.

Día 2:Desayuno. Salida de Mérida a Chichén con visita de Izamal en ruta. Comida en Chichen por su cuenta , visita del sitio, continuación por la tarde a Valladolid pernocta en el Mesón de Marqués.(D)

Día 3: Desayuno, salida a Ek Balam visita cenote Humkú , continuación a Cobá con oportunidad para observar aves al atardecer. Pernocta en el Villas Arqueológicas Cobá. (D)

Día 4: Al amanecer, exploración en busca del mono araña en Punta Laguna (a 15 mins. de Cobá), retorno a Coba para desayuno y visita del sitio. Comida en restaurante del area. Traslado a cenote Dos Palmas, visita corta con tiempo para nadar y continuación a Akumal, sitio perfecto para snorkel y/o canotaje. Pernocta en Club Akumal Caribe . (D)

Día 5:Desayuno. Visita de Tulum y de la caleta Yalku. Disfrute de un delicioso lunch por ultima vez con su guia. Tarde libre para disfrutar de la playa y del su confortable hotel Club Akumal Caribe. (D)

Day 6: Transportacion en compartido al aeropuerto de cancun.
This Tour Includes:

- Tranportacion con aire acondicionado
- Guia especializado
- Entradas a los sitios arqueologicos
- Hoteles
- Alimentos arriba mencionado (4 Desayunos)

Does Not Include:

- Lunches y Cenas
- Bebidas
- Propinas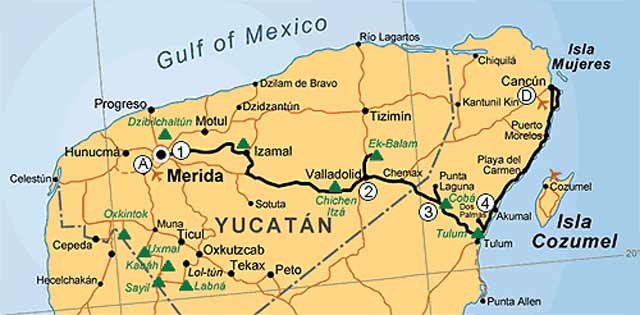 Todos los recorridos se realizan con guías especializados.
Tour Prices
Tarifa por persona: $ 1,313.00 USD en ocupacion doble