Custom Made Tours Designed for You and Your Group
Aquí presentamos algunos de nuestros tours. Recuerde que nuestro "fuerte" es la creació de TOURS UNICOS EN SU CLASE, de tal forma diseñados que los intereses y necesidades de usted son el principal ingrediente.
Probadita de Yucatán

Add to Cart
Tour's Schedule
Dia 1: Llegada a Mérida y transfer al Hotel Maison Lafitte por dos noches.

Dia 2: Desayuno en el restaurant siguiedo visita a las 9:00 a.m. de el sitio de Kabah y Uxmal, joya del area Puuc, un valioso ejemplo de arquitetura Maya. Disfurte del hermoso Palacio del Governador construido durante el mandato del Señor Chaac. Después del lunch continuaremos hacia el sur para visitar Kabah. estos lugares estan conectados por un Sac-Beh. Kabah. Retorno a Merida.(D,L).

Day 3: Despues del desayuno continuamos hacia el estuario de Celestun para abordar un bote que nos llevará a admirar las maravillas de la naturaleza que ofrece Celestun. Junto con el Flamingo rosa, Hay aproximadamente 300 especies de pájaros compartiendo este habitat con mamiiferos, reptiles y plantas. Pernocta en el Hotel Eco Paraiso Xixim (B,C).

Day 4: Dia de descanso en las tranquilas playas del Gofo de México.
Optionales: Excursiones diarias, tour de medio dia y visitas a Haciendas y Cenotes, Oxkintok y Cuevas Calcehtok o un tour en Bicicleta o Kayak. Pernocta en el Hotel Eco Paraiso Xixim (D,C)

Day 5: Desayuno. Salida a la hora de check out. transfer a Merida. Aeropuerto fin de servicios (D).

D=Desayno L= Lunch C= Cena
This Tour Includes:

- Transfer: Del aeropuerto de Merida al Hotel Maison Laffite, del Hotel Maison Laffite al Hotel Eco Paraiso Xixim y de ahi retorno al aeropuerto de Merida.
- Hospedaje: Dos noches en el Hotel Maison Laffite, Merida, Yucatán Y dos noches en el Hotel Eco Paraiso Xixim, Celestun, Yucatán.
- Comidas: 2 desayunos en el hotel Maison Laffite; 2 desayunos y 2 cenas en el Hotel Eco Paraiso.
- Tours: Uxmal y Kabah desde Merida compartidos; Estuario Celestun de Mérida en privado.
- Impuestos en alojamiento y alimentos, propinas en alimentos.
- Entradas a los sitios visitados.

Does Not Include:

Seguro de viajero o servicios no listados.

Tarifa aplica con un mínimo de 2 personas viajando.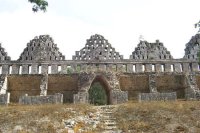 Tour Prices
La tarifa por persona en base ocupación doble es de $629 USD