Our Staff
Ecoturismo Yucatán was founded by Alfonso Escobedo and Roberta Graham de Escobedo in 1989 to promote environmentally responsible tourism to the Yucatán Peninsula and to increase awareness and appreciation for its diverse cultural and natural heritage.

Ecoturismo Yucatan's director, Alfonso Escobedo, was himself a guide for ten years before founding Ecoturismo Yucatan, and still guides parties himself despite the administrative load. A self-made man, he speaks five languages and reads texts on Mayan history in the original glyphs!, He is native to the Yucatan peninsula and is ideal to the person looking for a travel advisor, because he combines knowledge of the Yucatan from his large library with a great deal of personal experience. He is directly in charge of designing the tours, and has recruited an excellent team of naturalist tour guides to make your visit a super travel experience.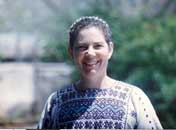 Roberta Graham de Escobedo, General Manager of Ecoturismo Yucatan, is a native Chicagoan who has lived for over 20 years in the Yucatan. She shares in the creation of tours with Alfonso, and ensures that these blend a unique travel experience with practical and efficient use of time and resources.

From left to right: Lizbet, Mili, Fernando & Esteban- Our office staff.