Cacao Museum/ Ecomuseo del Cacao.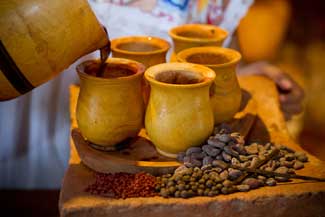 Come discover a beautiful and unusual, the mysterious history of cocoa and its intimate relationship with the Mayan culture. We are located between archaeological sites and Labná Xlapak at Km 20, Route Puuc, into a grove of Cocoa Tikul Plantation.
This PDF describes what you see in this marvelous Museum; located in the heart of the Puuc region, between Xlapac and Labna.
Updated: Jan 09, 2012 - 18:39
Created: Jan 08, 2012 - 22:37

Download this document in PDF format using the icon. You'll need Adobe Acrobat Reader to view the file.

File Download