Chiapas & Central America Maya and Olmec with Bruce Love, Ph.D.

Add to Cart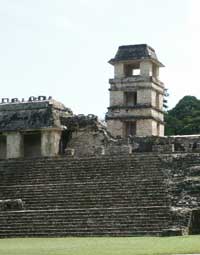 Bruce Love, Ph.D.
Curriculum Vitae

9 days (Plus two travel days; arrival and departure) in the land of the ancient Maya, with Bruce Love, Ph.D. in Chiapas, Mexico, Guatemala and Copan Honduras, where 2000 years of history come alive among the pyramids and temples of the most advanced civilization in the western hemisphere.
Tour's Schedule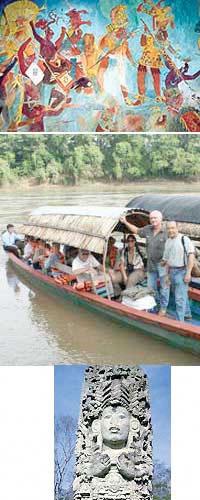 Day 0 Jan 22, 2010 Travel day to Villahermosa. (Continental flight from Houston arrives at 8 PM)
Day 1. Jan 23, 2010, Friday.
Travel to La Venta, one of the greatest Olmec sites. Climb the volcano-shaped earthen pyramid, built a millennium before the Classic Maya pyramids. In the afternoon travel to Olmec Park, an open-air museum containing many of the spectacular Olmec pieces from La Venta including colossal stone heads and stone sculpture of mythological beings. After Olmec Park, travel to Palenque and check into beautiful jungle Hotel Chan Kah for our first dinner together followed by introductory lecture.
Dinner included.

Day 2. Jan 24, 2010, Saturday.

After breakfast spend the morning exploring Palenque, a center of art, religion and astronomy in the seventh century AD The architecture and sculpture which developed here are unique in their stylistic beauty and technical perfection. The Temple of the Inscriptions, built circa 692 AD, stands over a vaulted chamber containing the carved sarcophagus of Lord Pakal, buried with a mosaic jade mask and jewelry of pearls, jade and conch shell. Visit a complex of buildings including the Palace, Temple of the Sun, Temple of the Foliated Cross, and the nearby exciting brand new discoveries at Temples XIX and XXI. Overnight at Chan Kah. (B,L,D)

Day 3. Jan 25, 2010, Sunday.


Early departure to Bonampak, which is known for the spectacular murals that changed the way the world viewed Maya civilization. In addition, it has three magnificent carved stelae and four carved lintels. Overnight at ESCUDO JAGUAR in Corozal (Chol community) on the magnificent Usumacinta River. (B,L,D)


Day 4. Jan 26, 2010, Monday.

After breakfast visit to the archaeological site of Yaxchilan reached by boat along the Usumacinta River. In this site you will arrive first at the rear of Structure 19, and then visit the Labyrinth, Central Plaza, Big Acropolis and other temples of the late classic period. Overnight at the hotel Escudo Jaguar (B, L, D)

Day 5. Jan 27, 2010, Tuesday.

Early boat trip from Corozal to Bethel. Travel up river by launch across the mighty Usumacinta and pass into Guatemala, home to the core area of Classic Maya civilization. Travel by van to the village of Sayaxche, we take a boat to travel the Rio de La Pasión, to reach Petexbatun Lake, then continue to Aguateca. Aguateca lies in the heart of the Petex-Batun region, and played a key role in the Classic Period rivalry between Tikal and Calakmul. Important evidence from recent archaeological projects confirmed widespread warfare during the waning days of the Classic. The boat ride alone is worth the excursion to this little-visited site in the Maya heart-land. Late afternoon back to Sayaxche, then drive to Tikal to stay at the Jaguar Inn. Directly in the National Park of Tikal.

Hotel accommodations at Hotel Jungle Inn. (B, L, D)

Day 6. Jan 28, 2010, 2007, Wednesday.

TIKAL. As with most Mayan sites, the origins are barely discernible and often covered by Classic Period constructions. Findings of pottery dating from a few hundred years before Christ give evidence that Tikal was inhabited at that time. The Classic era of Tikal lasted from about 300 to 900 AD Scattered for more than 4 km in every direction from the center are thousands of platforms that might have been foundations of houses. More than 50,000 people lived in Tikal and its surroundings at the height of its power. Hotel accommodations. Hotel Jaguar Inn. (B, L, D)

Day 7. Jan 29, 2010, 2007, Thursday.
Optional hike to view sunrise from Temple IV. Then a leisurely breakfast and late departure to try to rest a little from our very strenuous first six days. Travel by van south through the Department of Peten to arrive at the Rio Dulce where we take a short launch ride to peaceful Hotel Catamaran, near the mouth of Lago Isabal. Evening lecture on the deck over the water.
Hotel Catamaran in Rio Dulce. (B, L, D)

Day 8. Jan 30, 2010 , 2007, Friday.


In the morning, leave to visit the archaeological site of QUIRIGUA, inhabited since the 2nd century AD Quirigua had become during the reign of Cauac Sky (723-784) the capital of an autonomous and prosperous state. The ruins of Quirigua contain some outstanding 8th-century monuments and an impressive series of carved stelae including the tallest stela in all Maya land, and carved texts that constitute an essential source for the study of Mayan civilization. Lunch in Rio Hondo ( hotel Longarone) then drive to the town of Santa Rosa de Copan. Hotel accommodations at Hotel Marina. (B, L, D)

Day 9.Jan 31, 2010 , 2007, Saturday.


In the morning, transfer to visit the archaeological site of COPAN. Discovered in 1570 by Diego García de Palacio, the ruins of Copán, one of the most important sites of the Mayan civilization, were not excavated until the 19th century. The ruined citadel and imposing public squares reveal the three main stages of development before the city was abandoned in the early 10th century. In the afternoon transfer back to Hotel Marina (B, L, D)

Day 10. Feb. 1, 2010, 2007. Sunday.

Transfer to San Pedro Sula for your departure flight. (B)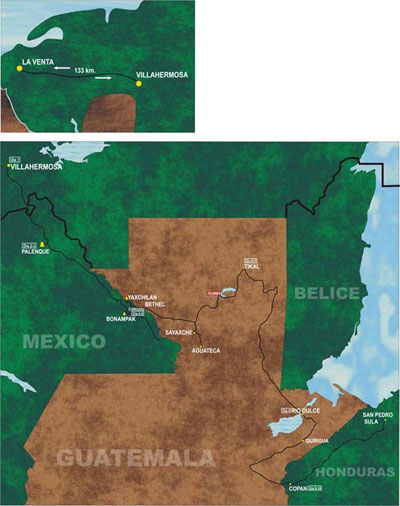 This Tour Includes:
This cost includes ground transportation, all hotels, all meals, tips to waiters, tips to bellhops, tips to room service, tips to luggage handlers at airport and boat in Yaxchilan.
Does Not Include:
Your only out-of-pocket expenses will be drinks with the meals, snacks along the way, and of course, souvenirs.
Not included: Air fare, border quote to cross into Honduras $20.00 U.S. aprox. Normally Guatemala does not charge to ingress the country. Depending on the official in charge. Tips to driver/guide, beverages, personal expenses.
| | |
| --- | --- |
| Tour Prices | Click below to read a comment from one of our clients. |