9 Toh Festival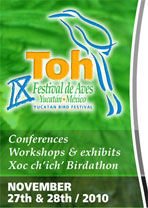 IX Yucatan Toh Bird Festival
Nov 27, 2010 - Nov 28, 2010
The Yucatan Bird Festival "TOH" takes place in a state which has traditionally served as the region's cultural center. It's a perfect place to combine birds with visits to Maya archeological zones and rural indigenous communities. Join us for well-packed three days of birding in company of local guides. Yucatan is home to 445 of the 548 bird species registered for the entire peninsula. There are exhibits and conferences in the colonial city of Merida prior to going afield. An important and fun part of the festival is the birding competition for all levels of abilities called xoc ch'ich – word in maya that means "bird count".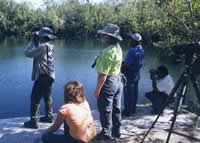 The festival is just a part of the local birding activities taking place this year in Yucatan, which includes workshops for children and adults, bird marathons, bird and song recording for guides. The travel agencies are actively participating in offering festival packages, as well as alternatives for pre and post tours. Come and celebrate with us the 9th Yucatan Bird Festival!
Program:
• Conferences
• Nature Tourism challenges and prospects for success" by Michael Carmody. Don't miss the opportunity to listen to an experienced ornithologist. October 5th, 6 pm. Auditorio del Centro Cultural Olimpo. Free Event.

• Bird-a-thon xoc ch'ich'
• Bird count. November Saturday 27th y Sunday 28th. There will be prizes for the teams which see the most species of birds. You don't need to be an expert. Form your own team, reserve the dates and participate!
The Opening event will be held on November 25th at 7 pm. Centro Cultural Olimpo.
The bird-a-thon cost $250 pesos per person for the general public and $150 for students.

• Artistic contests
• Drawing and Photography contests "United for birds" ¡Inscriptions starting
September 20th or contact us at infotoh@pronatura-ppy.org.mx!

• Photography and Drawing Exhibitions
• 6° photography and 4° drawing contests awards exhibition. November 25th . 7 pm. Centro Cultural Olimpo. Free event.
• Photography exhibition: "Asómate: A ver aves" . Amazing birds pictures that inhabit in Yucatan. Coming soon! Free event.
October 10. 2010 Next Field trip Sierra Papakal, Chuburná, Progreso y Xcambó
5:30 am Gran Plaza frente al Sambors
6:00 am
6:00 – 11:30 am