FIRE RITUALS AT CHICHÉN ITZÁ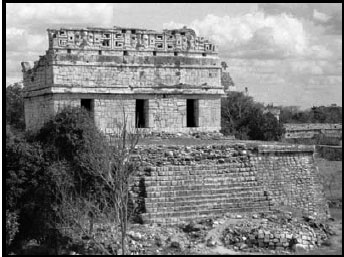 NTRODUCTION
Fire rituals that involve the "drilling" or "throwing" of fire rank among the common rituals in Maya inscriptions. They were important means to establish contact with supernaturals (Houston & Stuart 1996: 299), particularly various aspects of the deity
K'awil which were venerated during the ceremonies of the 819-day cycle. A drilling of fire on a panel that supposedly comes from Laxtunich near Yaxchilan (Mayer 1995: pl.
265) commemorates a dead ancestor.
Glyphic texts record fire rituals mostly as
part of the 819-day cycle (Grube 2000). The
standardized format of this ritual cycle presents
the fire rituals in an abbreviated manner
that impedes detailed understanding.
Terminal Classic inscriptions at Chichén Itzá
are among the few that mention fire rituals
outside of the 819-day cycle and that provide
more information about the actors, the
deities, and the kind of fire ritual. Of particular
importance are the fire rituals in the
text from the Casa Colorada.
Updated: Oct 18, 2007 - 17:21
Created: Jun 19, 2007 - 00:23

Download this document in PDF format using the icon. You'll need Adobe Acrobat Reader to view the file.

File Download