Relax in a garden hammock, swim in our pristine, chemical-free pool, enjoy the company of like-minded guests and feast on regional specialties made on-site by our Mayan cook.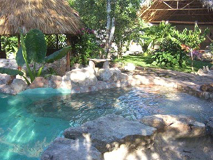 Genesis Retreat is 3000 meters from a spectacular archaeological site considered to have been the seat of Maya power in Central Yucatan during classic times. On the edge of a traditional village, it provides opportunities to make contact with locals, view how hammocks and tortillas are made, participate in traditional ceremonies and community events, or learn basic Maya. Visitors may also experience the richness of Yucatan's ecological heritage: cycling, swimming, bird watching, hiking, exploring cenotes or just lounging in a garden hammock. Besides the main lodge and dining area, Genesis Ek Balam includes 6 completely screened, Maya-stylized cabañas on a secure, private acre. One cabin is air-conditioned and all are equipped with quality ceiling or floor fans. With our three cabin tents with double beds, Genesis can accommodate 15- 20 visitors.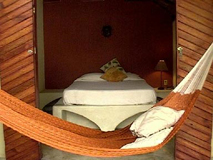 At Ek Balam, corn farming and hammock and tortilla making provide the degree of self-sufficiency, which enables residents to live in a way that has remained, in many ways, unchanged for hundreds of years.

During your stay at Genesis you will have to opportunity to sample daily life in a traditional Maya pueblo. You can see how hammocks and tortillas are made, for example, or take a beginner's class in Maya. You might also choose to be matched with a local family to exchange visits, skills, gifts or language instruction. Depending on when you visit, you may also wish to participate in traditional events or ceremonies held for baptisms, purifications, rain and harvest.

Sustainable Tourism

Genesis Ek Balam promotes methods of development and intercultural exchange that are not only low impact but also contribute to the preservation and appreciation of nature and traditional lifestyles.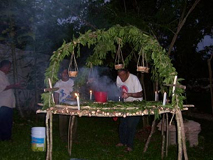 A Rich Ecological Heritage

Experience the richness of Yucatan´s ecological heritage: cycle, swim, bird-watch, hike, explore cenotes or just lounge in a garden hammock. The gardens at Genesis are designed to attract butterflies and wild birds, while fishponds and aviaries provide additional opportunities to observe fish and rescued birds native to the area. Visitors to Genesis may choose to take our herb walk with a knowledgeable Maya guide and translator or rent one of our mountain bikes to explore back roads and jungle trails.

Genesis Retreat Includes…
* chemical-free, bio-filtered swimming pool
* Collective pressurized hot water showers, outdoor "eco-showers" and men/women restrooms
* Garden bathtub
* Coffee Shop, kitchen, book exchange (8am-8pm)
* Wireless high speed satellite internet (starting November 15 2005)
* Traditional/regional and vegetarian menu
* Mountain bikes to explore nearby villages, cenotes, caves

Genesis Retreat Ek Balam is...

*1 1/2 hour from Cancun or Merida international airports
*1 1/2 hour from the white, sandy beaches of the Caribbean
*1 1/2 hour from the biosphere reserve at coast of Gulf of Mexico
*1/2 hour from the world-famous ruins of Chichen Itza
*1/2 hour from the Colonial city of Valladolid, the oldest city in the Yucatan
*1/2 hour from the spectacular cenotes of Zaci, Dzitnup
*A short cycle trip to untouristed caves, cenotes and forest
*3000 m. from the spectacular archaeological site of Ek Balam.
Units with Single Beds
Hobbit – 3 tiered single beds. Large porch with table, chairs and hammock. Traditional thatch roof and ceiling fan. Screened. Double/triple occupancy.
Yuya-- One double and one single bed under "birdhouse". Large windows, wood ceiling, porch and hammock on roofed patio. Double occupancy
Torre – 2 single beds in "Tower", with breezes from all four sides. Traditional thatch roof, floor fan, screened. No deck or patio. Double occupancy.
Units with King/Queen Beds
Xtabay – Oversized queen bed, large porch with table, chairs and hammock. Traditional thatch roof with ceiling fan. Screened. Extra daybed or cot available with mosquito netting. Double occupancy.
Birdhouse – Queen sized hanging bed in second level, screened cabana. Floor fan and thatch roof. Breezy wooden deck with hammock and rocking chair. Double occupancy
Reflection (Luna) – Oversized queen bed,
bathroom
, and poolside stone porch
with cooling water wall. Double occupancy.
Iguana – Queen sized bed, Air conditioner, plant-shrouded porch and rocking chair. Double occupancy.
Family/Group Unit
Illumination (Sol) -- Your very own Mayan temple with 2 single beds and
bathroom
on main floor, queen sized hanging bed, single bed and hammock in loft. Foots onto the pool. Extra Cot available. Occupancy minimum of 5.
Economy
Tents -- We rent large, perfectly pest-proof tents with regular double or single beds and lighting. Single or double occupancy.