The Hacienda (landed property) Yaxcopoil can be dated back to the seventeenth century. Yaxcopoil, signifying in Mayan language "the place of the green Alamo trees" combines in its history the three great periods of ancient Yucatán: The pre-Hispanic period, the time of the Spanish colony, and the boom years of the henequén (Sisal) cultivation during the late nineteenth and early twentieth century.

At the present time the hacienda is a parador and museum of private character, which wanted to present, as realistically and simply as possible, the spaces and the furnishings that were used, displays include various articles and utensils used during the hacienda's periods of splendor..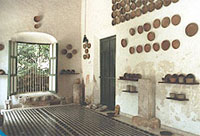 One of the halls, the so-called "Maya room", has been converted into a small museum showing numerous pieces of ancient pottery and other archaeological relics of the "classic period" (A.D. 250-900) found in the Mayan ruins of Yaxcopoil.

Parador, Museum, Lodging, Events, Refreshments, Handicrafts, Memorabilia.
OPENING HOURS:
Monday through Saturday from 8 AM to 6 PM, Sunday from 9 AM to 1 PM. Throughout the year.
ADMISSION
$35. Pesos per person, children accompanied by their parents are exempt of payment.
Discounts for school groups, university students and similar, properly identified.
LODGING
The hacienda has a splendid "Casa de Visitas" (guest house) beautifully restored specially for guests. The building consist of a large room, spacious corridor with high ceiling, surrounded by extensive gardens with infinite varieties of colors and exuberant vegetation that places you in a unique and incomparable atmosphere.
Furnished with two double beds, electric fans and private bath, patio and parking space. A kitchen area equipped with a refrigerator, coffeepot, electric stove and grill, chinaware and all the necessary utensils needed for a pleasant stay.
As guest of the hacienda you will be able to share their history, the greatness and charming magic atmosphere conserved in this wonderful place that dates from the seventeenth century. The monumental "Moorish double arch" memory of the colonial time opens the doors of the hacienda, offering you a cordial welcome.
The price daily is of $500. Pesos, double occupancy. $100. Pesos for an additional person, children accompanied by their parents are exempt of payment. It includes a breakfast consisting of juice, coffee, milk and sweet bread.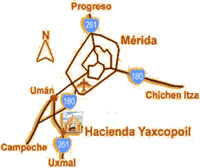 DIRECTIONS
The Hacienda Yaxcopoil, which is part of the Mayan World, Zone Puuc, Haciendas and Monasteries Routes. From Mérida the State capital going Southwest to the hacienda is about 33 kilometers or 20 miles (35 minutes) on the Federal Highway 261, Kilometer 186, Mérida - Uxmal. In the State of Yucatán, within the municipality of Umán, is to the Southeast of Mexico.
When traveling from Mexico City by airplane to Mérida, the approximate flight time is 1 hour and 30 minutes; traveling on the highway takes about 20 hours (1,450 kilometers-901 miles).