Villas CHIMAY is a small paradise with cosy Cabañas (Bungalows) and a restaurant built in traditional palapa style. This style is traditional to the Mayan people using the natural resource of palm leafs to form the roof, giving protection from the heat.

Enjoy the beauty of nature, the remarkable beach and the variety of cooking.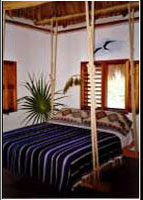 Villas CHIMAY is an idyllic oasis located 1 km west of Holbox village.

It is situated on the edge of a beautiful white sandy beach in a tropical garden of 1 hectare filled with indigenous trees; coconut palms, chit palms, agaves, seagrapes, mangroves and banana.

Tranquil and inviting it is a place to linger and rest your soul.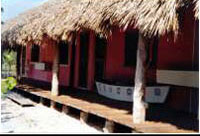 Villas CHIMAY is a place to relax, to refresh yourself in the blue sea, to experience unforgettable sunsets and to enjoy good food and a nice drink. It is the perfect place for romance and relaxation.

Your Swiss host Eliane has fulfilled her dream and has created a small, cosy "Hideaway". She has done her own planning and has been involved in the construction work. You will enjoy the personal atmosphere with international guests.
Villas CHIMAY has its own Solar- and Wind Energy System, collection and use of rain water and ecological Waste Water System. Today alternative tourism is the most exciting, relaxing and original way of modern traveling. In this sphere Villas CHIMAY is the pioneer in Holbox and is still the most unique.

Villas CHIMAY rents kayaks, golf-cars, snorkeling equipment, aqua-fit-belts etc.

Villas CHIMAY organizes tours by boat, by kayak, walking in the jungle, cave tour and fishing tours.