Welcome to Holbox Dream Hotel

Hotel Holboxdream it is a place like paradise, located in the Yum Balam Reserve, north from the Yucatan Peninsula (Mexico).
There you can do boat excursions, snorkel with the whale sharks, practice kayaking in the mangroves, fishing or simply walk on the 40 km beach during the sunset in search for shells.
Discover one of the last places in this world where stress and routine are unknown and nature still plays a basic role.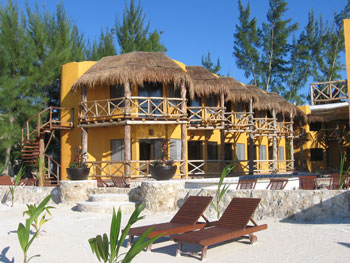 The hotel is managed by Virginie, a French woman.

She, along with the hotel staff, will reserve for you the best spots and will be your guide for a better discovery of Holbox Island.

Holboxdream is a quiet hotel equipped with all comforts such as fans, air conditioning, shower, swimming pool and Jacuzzi (only high class rooms). Private beach without golf carts.

- The rooms
16 rooms, 2 of wich are high class, with sea view, terrace and hammocks, tastefully furnished following almost completely a Caribbean style.

- The board :

The hotel suggests a half- or full board with one of our restaurants partners. In fact, the island has many quality and service oriented restaurants to offer.

Our selection will allow you to choose the best options available in town, with a large variety of dishes.

Discover a different restaurant and taste other specialties every day…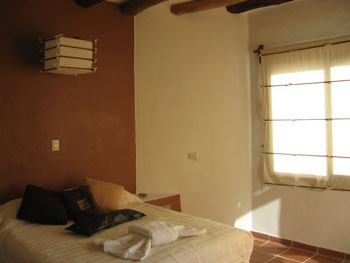 The island and its village

The island is 25 km long and 3 km wide. Its beaches seem unlimited and are characterized by calm waters and shells of different shapes and colours.

Holbox is the perfect spot for many species of protected plants and animals.

Between April and October more than 400.000 pink flamingos can be seen in the close lagoon. Additionally to that tourists can appreciate also other sea animals such as dolphins, turtles and whale sharks.

Here, the sun shines all year long and the average temperature is 27° C.

Holbox has just been lately discovered by tourism, which allowed that the village of fishermen kept its natural and authentic atmosphere.

Its inhabitants are close to 2000 and will greet you with a big smile on the face, trying to invite you for a boat ride around the island, source of their pride.

Experience a life without any cars or roads, where people only move by feet, bicycles and golf cars on sandy streets. Welcome to Holbox…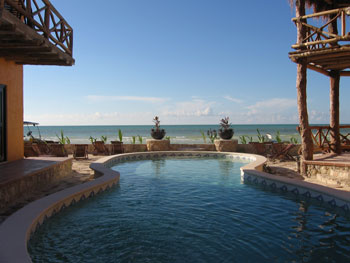 Hotel on the beach, swimming pool, jacuzzi on the roof. 16 rooms with fan, a/c, hot water, queen size beds, wireless. All have sea view and private terrasse. 5 minutes walking from center, quiet beach, no golfcart passing. Bed & breakfast, halfboard, fullboard: choice of 6 restaurants in center. Transfers, boat tours, whale sharks, excursions, car and bike rental, horse ridding, kayak, kitesurfing, massage, babysitter. no pets allowed. We speak French, English, Spanish.

On the upper floor there are 7 superior rooms and 1 luxury total 8 with a full size bed (2 people)
On the lower floor there are 7 superior rooms and 1 luxury total 8 with a full size bed and a twin bed (3 people)
Crib and extra bed are available upon request for children under 6.
Maximum room occupancy 3 people, in case there are children under 6, up to 4 people

There is no ATM on the island.


How to arrive?

plan de holbox ile au mexique

Many options available:

The shuttle service from Cancun Airport to the Hotel HOLBOXDREAM

(Ground transfers + fast boat + mini taxi)

From 1 to 3 persons 150 USD (one way)
From 4 to 7 persons 190 USD (one way)
From 8 to 10 persons 220 USD (one way)

The bus:

Every day several buses from the main terminal of Cancun (trip duration: 3 hours) heading towards Chiquila'. The departure times are 7h30, 12h30 and 14h15.
Leaving from Merida there is only one bus at 23h30 (trip duration: 5 hours).

The only way from Chiquila' to the island has to be by boat. The services are regularly available (approximately every hour) and can be private or public. The trip lasts 20 minutes.

There is also the possibility to come from Cancun by plane. The duration of the flight is about 30 minutes and you will land directly in the small local airport www.aerosaab.com