Toh Festival 20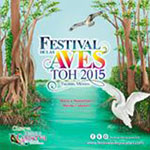 Festival Toh 2015
Nov 20, 2015 - Nov 22, 2015

November 2015 Yucatan Bird Festival Toh, Conferences, workshops, etc. and the Xox chi ich.
14 years ago, the magic of the turquoise plumage of the Turquoise-browed Motmot (Eumomota superciliosa) inspired the creation of the Yucatan Bird Festival Toh. Ever since, every year, from March to November, the Festival hosts many activities related to the incredible bird diversity of Yucatan, like birdwatching tours, photo and drawing contest, conferences, workshops, etc.

​The pinnacle of the festival, the bird-a-thon xoc ch ch (bird count), will take place from Friday 20th to Sunday 23th of November 2015 in Merida and Celestún, Yucatan.