Bicycle Adventure

Add to Cart
An adventurous and exciting tour which combines mountain biking, and ends with a refreshing dip into the crystalline waters of a tenuously lit cenote. The 35 kms. traveled during this 3 to 4 hour adventure include three rest stops, and time to swim in 2 cenotes.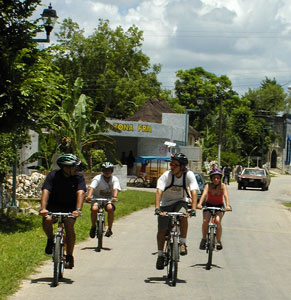 Recommended equipment:
Appropriate clothes for each of the tour´s activities
Biking: shorts, t-shirt, tennis shoes, socks, cap, sun glasses, bio-degradable sunblock.
Cave exploration: Long pants, t-shirt, flashlight.
Swimming: Swimsuit, face mask, snorkeling gear and fins, towel, change of clothes for ride back to Merida.
Energy snacks (granola bars, dried fruit, nuts, fresh fruit).
Food for picnic lunch.
Tour Prices

Requirements: Youthful spirit, good health and physical condition, and passion for outdoor activities and swimming. Participants welcome between the ages of 15 years old and older. (Children must be accompanied by parent/guardian or responsable adult) Minimum weight: 41 kg. / 90 lb..
Departure from Merida: 8:00 A.M.
Return to Merida: 7:00 P.M.
Minimum: 4 participants
Maximum: 12 participants
<>
Day Tours and Transportation reservations:
- Reservations must be made at least 72 hours prior to the requested date.
- Reservations cancelled 2 days prior to the scheduled service are subject to a charge of 10% of the total amount of the reservation.