Eco Paraiso Hotel, Celestun, Yucatan Mexico

Located at one of the most fascinating Mexican Biological Reserves, nestled on a 3 mile virgin beach, Hotel Eco Paraiso offers 15 spacious attractively furnished bungalows, each overlooking the emerald green Gulf of Mexico.

Enjoy your winter vacation at a unique ecolodge in Mexico:
- Junior suite cabanas with sea view
- Mexican and International dishes.
- Bar and games zone
- Movie lounge with cable TV
- Wide swimming pool and snack bar
- 3 miles of private beach

Here you will find a unique experience with nature and a place to relax allowing you to leave the pressures of everyday life behind.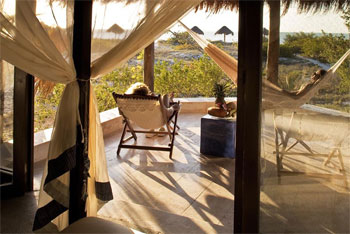 Enjoy our refreshing swimming pool, a spectacular white sand beach covered with thousands of seashells and spacious gardens with pristine coastal dune flora.

Our bungalows were designed to harmonize with the surrounding nature. Every bungalow has two queen size beds, sitting area, ample bathroom and private terrace with a hammock and two rocking chairs.

The hotel has a unique concept that, in addition to your lodging, offers you many interesting and exciting tours. The main focus behind this is to enable our guests to become more intimately familiar with and appreciate the culture, history, unique ecosystem and archaeological wealth of Yucatan. Don't miss a visit to the spectacular pink flamingo colony!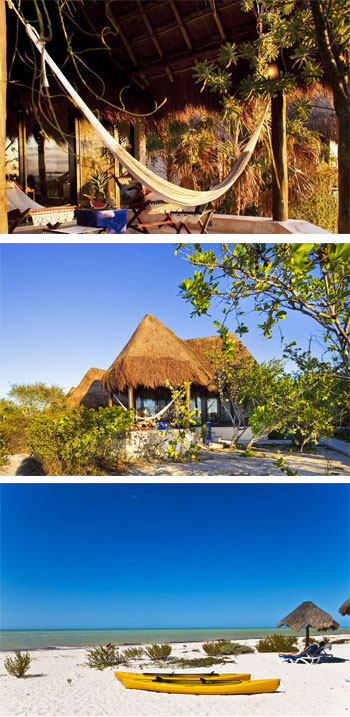 All meals are served in the Hotel's Restaurant.
Take your time and relish on a tasty Mexican breakfast! Among many other delicious items we offer fresh fruit juices, a seafood omelet and our homemade whole meal bread.
Celestun is also famous for its fishing. At lunch and dinner you will enjoy the "catch of the day" in different varieties: fish or shrimp "ceviche", fish filet, shells filled with seafood, shrimps with garlic, crabs, among many others. During lunch and dinner we also serve typical Mexican & International dishes.
All the fresh products we serve for you are properly washed and disinfected. We only use drinkable water in our restaurant and bar. We have a vegetarian menu and dishes specially made for the kids. We also have room service for your comfort and a snack menu at the pool area.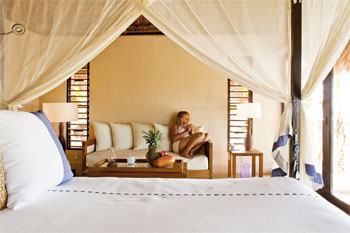 Come to discover this hidden Paradise in the Yucatan Peninsula, Mexico. The Eco Paraiso Hotel was designed and built to meet strict international ecological standards. Located between the Gulf of Mexico and the unique salt water inlet of Celestun, this little niche is rich with ecological wonders, home to many species of birds and a popular habitat for breeding sea turtles. A perfect getaway!

Imagine walking by the hotel 3 mile secluded virgin beach full of shells, while you hear the sounds of the tranquil sea, watching the coastal birds or even the sea turtles nesting.

We, the hotel Eco Paraiso Staff, are proud of working in this protected environment. Surf through this Website and discover the world waiting for you in this Nature´s escape. Learn about our comfortable bungalows, the hotel activities, the region's excursions, and the special promotions and packages we designed for you. Chichen Itza, Uxmal and Eco Paraiso, 3 Wonders of Yucatan.threatened with extinction.


Location
55 miles west of Merida and 6 miles to the North of the little fishing village of Celestun.
Celestun is the main feeding area for the American Flamingo and countless species of waterfowl and shore birds. Celestun was decreed Special Biosphere Reserve in 1989 and is now referred to as the Celestun Wildlife Refuge, a Special Biosphere Reserve. By definition, this is a zone of one or more ecosystems that haven't been altered by man. These are typically a habitat of endemic and transient species threatened with extinction.