MAISON LAFITTE IS A NEWLY BUILT PROPERTY LOCATED IN THE HISTORICAL CENTER OF MERIDA, ON 60TH STREET ACROSS THE SANTA LUCIA PARK. THE HOTEL FEATURES 30 DELUXE FULLY EQUIPPED ACCOMMODATIONS WHICH INCLUDE TELEPHONE, SATELLITE TV, MINIBAR, SAFETY DEPOSIT BOX, HAIR DRYER AND JACUZZI IN THE BATHROOMS. DINE AT LA FUENTE RESTAURANT AND ENJOY DELICIOUS MEXICAN CUISINE OR RELAX IN OUR COCKTAIL LOUNGE. OTHER AMENITIES INCLUDE SWIMMING POOL, FREE PARKING, LAUNDRYDRY CLEANING, CAR RENTAL, ROOM SERVICE AND 24HOUR SECURITY SERVICE. THERE ARE 2 SINGLE, 22 DOUBLE ROOMS 5 TRIPLE ROOMS AND 1 QUADRUPLE ROOM ALL OF THEM ARE LOCATED IN FOUR LEVELS ARROUND OUR CENTRAL PATIOS AND GARDENS.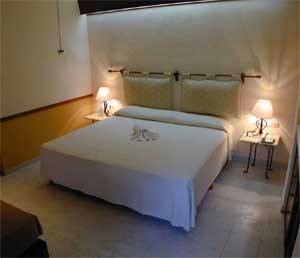 Room Information - Hotel Maison Lafitte

-30 Rooms Availables With Twin Beds Double Beds King Beds Pool View City View Standard Room 2 Double Beds- Standard Room 2 Double Beds Standard Room 1 King Bed- Standard Room 1 King Bed Standard 2 Twin Beds- Standard 2 Twin Beds -rac Min Stay 1, Max Stay 99 Includes Standard Rack Rate Plu -s 17 Pct Tax.
Property Information

-30 Rooms -safety Deposit Boxes -restaurant -lounge/Bar -non Smoking Rooms-rqst -ice Machines -alarm Clock -balcony/Patio-some -iron And Board -shower -private Bathroom -air Conditioning -hairdryer -remote Control Color TV -in Room Movies -in Room Safe -direct Dial Telephone -garbage Disposal *Facilities Located Off-property- -grocery Store - 1 Block -pharmacy - 1 Block -movie Theatre - 2 Blocks -shopping Center - 10 Miles -convention Center - 11.2 Miles

Check in time is 2:00 PM, Check out time is 1:00 PM.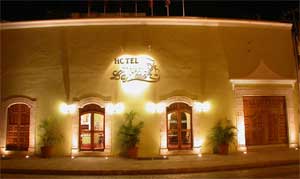 Calle 60 Stroll
Strolling, meandering, shopping and people watching are all components of the Calle 60 stroll. This is a very busy colonial street that is one of those 'musts' that you just have to do. Start at the Plaza and head north toward Calle 59, Hildago Park. In this first block, there are many shops with handicrafts, a magazine store, a famous café and the gorgeous Hildago Park with its many outdoor restaraunts. On the next block is the beautiful Church of the Third Order with its incredible chandeliers and frescoes. Parque de la Madre is located next door followed by the Peon Contreras Theater. Across the street is the main building of the University of Yucatan. On the following block is Santa Lucia Park where, every Thursday, there is a Yucatecan serenade. Visit Santa Lucia Church and the Hotel Maison Lafitte directly across the street.

Continue your stroll up to Calle 47 which is Santa Ana with its park, church and market. Stop in the shops and antique/art galleries along the way. If you still have energy, you can walk over to the Paseo de Montejo which starts just one block away. The Paseo de Montejo, considered to be Merida's 'Champs Elysees' is an elegant tree lined boulevard. If you're worn out, you can take a horse drawn carriage back the other way!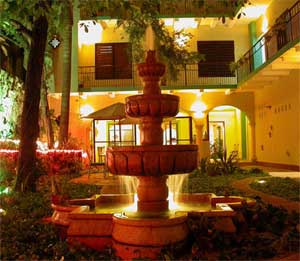 Patio: Our Patio with a water falling fountain is perfect for outside breakfast or drinks in the evening! Patio:15

DINING: Our snack bar "Las Fuentes" offers besides International food some typical Yucatecan food.

Las Fuentes: We have a nice snack (indoor-outdoor) bar "Las Fuentes" with TROVA music which is open from 8:00pm to 11:00pm (Thursday to Sunday) and a every day room service of the Ki´bok Cafe (from 6:00pm to 11:00pm.)

LOCAL AREA: Located in Merida state of Yucatan, the Hotel Maison Lafitte is just a few minutes away from the historic center , the guests will find museums, churches, theater and parks. They will enjoy our central patios surrounded by a colonial ambience as a result of an exquisite union of pre-Hispanic European elements. The popular Maya ruins are nearby and in the city there are many possibilities to buy souvenirs ( silver, hammocks etc.) Some of the most popular attractions in our area are listed below in our "Top 10" list.

DIRECTIONS: Merida International Airport is 2 km from the hotel.
From the Merida International Airport taxi fare is approximately $9 USD.