In the southeast of Mexico, surrounded by the clear blue waters of the Caribbean and the Gulf of Mexico, lies the peninsula of the Yucatán, where the great Mayan culture once flourished amidst tropical forests. A 25 minute drive from the airport of Campeche, the state capital, and a 2 hours drive from the International Airport of Merida lies Hacienda Uayamon.
Uayamon, a superb residence not far from the city of Campeche recreates the belle époque of the Mexican southeast. The 12 rooms and suites are conditioned with exquisite details and locate in the main 18th century building, surrounded by beautiful gardens.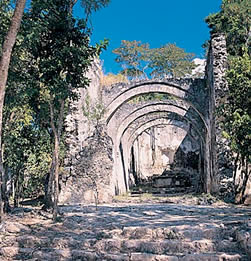 Services

Complimentary services
- Bathrobes and slippers in all rooms
- Flower decoration and fruit platter at arrival
- Daily turn-down service
- Horseback riding
- Mountain bikes
- Swimming pool
- Mini tour through the property
- Games (chess, backgammon, cards, etc.)
- Mail services
- Library
- Professional assistance to prepare your personalized "A la Carte" tours
- Excursion basket with hand towels, Kleenex and repellent for each guest
Services available at extra cost
- Tours to the archeological sites with driver and/or bilingual guide
- Child care
- Spa services (massages, facials, body treatments, aromatherapy)
- Business services
- Internet services
- Romantic dinner in the gardens of the Hacienda
- Laundry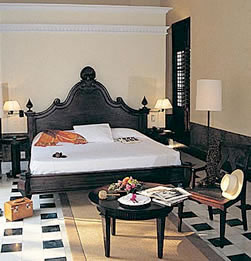 Accommodations

The villas and suites located, in what have been former employee accommodations for the elite of the hacienda staff, have been fully restored and adapted to the hotel needs. A specific restoration project had been developed to express its particular architectonic personality by conserving the same spirit that its former and original owners gave to it. Thus, in some cases, the restoration of buildings brings together both contemporary and traditional aspects and the new spaces and elements serve above all to highlight the artistic and architectonic value of the haciendas original features. The interior design of the guestrooms and public areas was done by the well know Indonesian Arquitect Jaya Ibrahim giving this hacienda it's very unique touch. Of course you will find in this hacienda as well the bulbous pegs set into the stone walls for hanging the woven cotton hammocks, for which Campeche is famous, to allow our guests sleep in the Mayan Style.
Room facilities:
* Air conditioned and ceiling fans
* 1 King or 2 twin beds
* Desk
* Wood closets (at least 2 in each room)
* Safety Box
* Direct dial phone
* Shower and bath tubs in all Villas (the suites have an exterior plunge pool).
* Bathrobes and daily change of amenities
* Private miniature exterior plunge pool in both suites
* Private terrace with Day bed in all guestrooms
* Mini bar
* Satellite TV in all guest rooms
* Mini Sound System with CD (only Suites)
* Hammock
Colonial Villa: Very privately located spacious villa with in its oversized bedroom a beautiful iron bed. Furthermore the villa counts with a large separate bathroom with bathtub and shower, an ample terrace and a unique day bed.



Colonial Suite:
Located in the former charity hospital these very spacious suites feature a large bedroom with a kingsize bed and a sitting area, an ample bathroom and a private garden with a plunge pool and a day bed.
Hol Bé, The Spa Of The Haciendas

Surrounded by dense tropical jungle and exotic wildlife this secluded and beautifully restaured hacienda is possibly the most intimate and exclusive atmosphere where guests are invited to distance themselves from the outside world.
The term "Hol Bé" comes from the Mayan language and translates as "Open Way or Opening the Way in the forest" which sets the mood for the unique calming experience within the Spa. Helping to preserve the ancient Mayan healing practices of the Yucatan peninsula, a select group of the local Mayan therapists have been carefully chosen to provide the special treatments and services offered in the Spa. Several of the therapist's ancestors were authentic Mayan "Sobadores" or so called "bone healers" and throughout generations handed down techniques and treatments only found in the Mayan world. Their hands and magical restorative spirit help to restore health, energy and beauty in a holistic ambience.
Dedicated to pampering guests in a restful retreat in harmony with nature, The Spas at The Haciendas are based on "high-touch, low tech" concept that celebrates the human touch and use of natural, often indigenous, spa products.
Special treatments:
- Maya Plan (A couples massages in the privacy of your room)
- Seaweed Wrap
- Mud Wrap
- Mayan Energy Massage.
- Mayan therapeutic massage
Other services: Aromatherapy, Swimming Pool
Recommended Packages: "Hol Bé" plan, an ancient Maya energizing treatment starting with a relaxing foot massage and continuing with an exfoliating treatment using totally natural ingredients derived from flowers and honey. The entire body is vigorously massaged to get removal dead skin cells. This is followed by an invigorating shower, a rub to detoxify your skin and is finished with a soft and relaxing massage with moisturizing oils. This full body treatment lasts for 125 minutes.
Location
The hacienda Uayamon is located on the Yucatan peninsula, 26 kilometers from Campeche airport. Hidden in a zone whose cultural wealth is comparable only with its natural attractions, the hacienda Uayamon offers not only an ideal place for resting, but also the possibility of visiting fascinating Maya ruins and Arquelogical sites.
The modern Campeche "Ing. Alberto Acuña Ongay" Airport serves 3 daily flights to Mexico DF. Another excellent option is flying through the modern Merida "Manuel Cresencio" International Airport that serves as destination for several direct flights from the U.S. and connecting flights from Latin America and the Caribbean (through Mexico City and other hubs). Major airlines with service at Merida include: Mexicana, Continental, Aero Mexico and Delta. Merida is only a short flight from these major cities: Mexico City (1 hr, 40 min), Houston (1 hr, 50 min), Miami (1 hr, 30 min), Cancun (35 min). It takes around 2 hrs (181 kilometers) to drive by car from Hacienda Uayamon to Merida "Manuel Cresencio" International Airport.
Driving Directions from Merida Airport: After leaving the airport turn left, following the signs Cancun, after 3 kilometers, turn right of the bridge to get on the ring road to Cancun. After 3 kilometers, turn right and take the highway to Campeche (No. 180), after 151 kilometers (passing the villages of Calkini, Hecelchakan, Tenabo and San Francisco Koben) you will see a sign indicating: Campeche to the right (there is a PEMEX gas station at this corner). Do not turn right, continue straight following the signs "Champoton" for another 12 kilometers until you will see a sign Hacienda Uayamon on your right side. Turn left after this sign and continue for another 10 kilometers until you will see another sign indication Hacienda Uayamon. Turn right and after 8 kilometers you will see the entrance of the hacienda on the right side.
Driving directions from Campeche Airport: After leaving the airport take the roundabout ¾ (left) and continue until get to the first crossroads. Turn left following the sign Merida. After about 1.5 kilometers turn right following the sign EDZNA and continue for another 10 kilometers until you will see another sign indication Hacienda Uayamon. Turn right and after 8 kilometers you will see the entrance of the hacienda on the right side.
Airport transfer: Campeche Airport is about 26 kilometers from the hacienda and the ride takes approximately 20 minutes. The transfer from and to the hacienda should be requested in advance.
Car rentals: Upon arrival you can rent a car in the city centre of Campeche but you can also arrange a car to wait for you upon arrival at the hacienda through our reservation office. Campeche counts with an decent infrastructure, most roads are at the moment being improved. It is very safe to drive around, people are extremely friendly and always willing to help you.
Climate: The warm, humid climate of the Yucatan Peninsula, where annual rainfall is around 60 days, results in beautiful sunshine 300 days a year.
Credit cards: We accept all the mayor credit cards (Mastercard, VISA and American Express)
Currency: Mexican Peso; the U.S. Dollar is widely accepted throughout the area
Electricity: Electricity in the hotel is 110 Volts, 60 cycles
Time Zone: GMT – 6
Tours: Tours to Edzna, Champoton, Campeche city with "El Guapo", San Miguel Fortress and a vast number of attractions can be arranged through our guest service manager.