Yucatán

Language
| | |
| --- | --- |
| | Latitude 89.65 |
| | Longitude 20.98 |
---
General Info
---

Car & Bike Rental


Recommend Us


Bicycle Adventure

Add to Cart
An adventurous and exciting tour which combines mountain biking, a visit to an underground cave and ends with a refreshing dip into the crystalline waters of a tenuously lit cenote. The 35 kms. traveled during this 3 to 4 hour adventure include three rest stops, visits to 2 archaeological sites, a henequen hacienda, an underground cave and time to swim in 2 cenotes.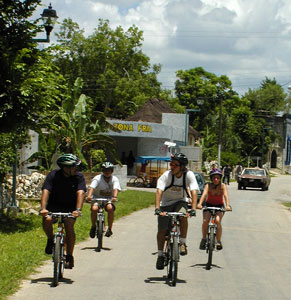 Included: 21-speed mountain bike, helmet, purified water, transportation from Merida to departure point and return to Merida, support-vehicle during entire trip with Jeep Wagoneer (not air-conditioned), insurance, entrance fees, ice chest.
Recommended equipment:
Appropriate clothes for each of the tour´s activities
Biking: shorts, t-shirt, tennis shoes, socks, cap, sun glasses, bio-degradeable sunblock.
Cave exploration: Long pants, t-shirt, flashlight.
Swimming: Swimsuit, facemask, snorkeling gear and fins, towel, change of clothes for ride back to Merida.


Energy snacks (granola bars, dried fruit, nuts, fresh fruit).
Food for picnic lunch.
OPTIONAL: Typical picnic lunch for an additional $ 7.00 USD (Please confirm when making tour reservation).
Tour Prices

Please contact us at info@ecoyuc.com to offer you a price

We require a minnimum of 4 participants and a maximum of 12 in order to operate this tour
Requirements: Youthful spirit, good health and physical condition, and passion for outdoor activities and swimming. Participants welcome between the ages of 15 years old and older. (Children must be accompanied by parent/guardian or responsable adult) Minimum weight: 41 kg. / 90 lbs.
Departure from Merida: 8:00 A.M.
Return to Merida: 7:00 P.M.
Minimum: 4 participants
Maximum: 12 participants
<>
Day Tours and Transportation reservations:

- Reservations must be made at least 72 hours prior to the requested date.
- Reservations cancelled 2 days prior to the scheduled service are subject to a charge of 10% of the total amount of the reservation.
- Cancellations made less than 48 hrs prior to the scheduled service or "No shows" are 100% non-refundable.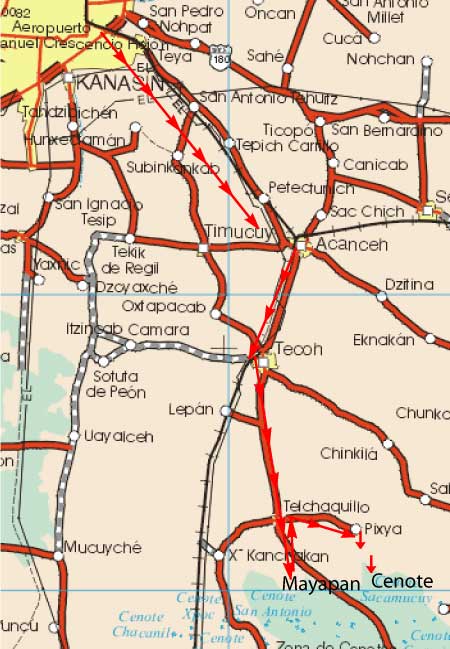 For more information send us an Email:
info@ecoyuc.com
or use our reservation form.
ECOTURISMO YUCATAN
Calle 3 No. 235 x 32A y 34
Col. Pensiones C.P. 97219
Mérida, Yucatán, México.
Tel: (52) (999) 920-2772
Tel: (52) (999) 920-2742
Fax: (52) (999) 925-9047

Tours

EcoTurismo Yucatan excels in introducing you to the ancient land of the Maya.
Our multilingual expert leaders interpret the Mayan history, architecture, culture and ecology for you. During our tours you will see the relationship of the ancient culture with the present culture and ecology.

Bookstore

Maya Culture Today

Add to Cart
"Maya Culture Today" by Bruce Love, Ph.D.
is a book mainly for the discerning tourist in Yucatan.
The author, an anthropologist who has first hand experience living with today's Maya people in their communities, gives us a first hand account of their customs and daily lives.
Visit the Bookstore for more Exclusive Titles !

Forum

Available Forums

Viajes a Yucatán
Trips to Yucatán

Excursiones
Tours

Ayuda y Sugerencias
Help and Comments


---

Quick Support