Hacienda Chichen Resort

In 1921, the Hacienda Chichen became the Carnagie Institute's Mayan expedition headquarters in the Yucatan. The picturesque cottages, built for the Carnegie staff, have been recently re-modeled to serve as guest rooms. Within it's heritage the Hacienda Chichen merges, with exquisite elegance, two of the Yucatan's most historical periods; the Pre-Columbian and the Colonial, with modern services for your comfort and convenience. It will be a pleasure to have you here with us. We hope you enjoy the splendor of Chichen-Itza, one of Mexico's most powerful post-classic Mayan archaeological sites.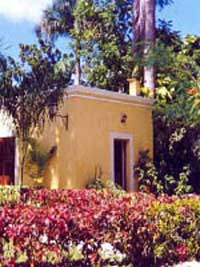 28 guestrooms, including non-smoking rooms, are housed in small historic cottages embraces by lush tropical gardens.
• 18 Double bedrooms3
• Honeymoon guestrooms (Queen size bed)
• 7 Master Suites (king size bed or 2 full size beds available)

Our standard double bed and Honeymoon guestrooms include:
• Front porch terraces decorated with rocking chairs and Yucatecan "hamacas".
• Air conditioning
• Humidity control units
• Ceiling fans
• Mini-bar
• Private Bathrooms
• Bathroom amenities such as hair dryer

In addition, our 7 Master Suites have living-room, vanity area, bathtub, walking closet, private patio, bath-ropes and other guestroom courtesies.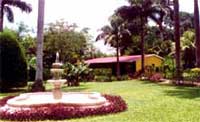 Cozy cottages with private terraces house our guests. Every room is beautifully decorated with colonial tiles, carved accessories and hand woven bedspreads. The rooms also have air-conditioning, dehumidifiers, service-bars and fans for our guest's comfort. We invite you to enjoy the hotel's serene atmosphere and experience our hospitality.
FACILITIES

• Dining area, swimming pool and gardens are all in a colonial atmosphere.
• We invite you to take a walk to the "Noria" (the little Chapel) and the many archaeological sites.
• We host the most original playground in which to celebrate wedding ceremonies and special occasions whether personal or business.
• Our haute-cuisine menus can satisfy the most sophisticated palates.
ROOM RATES 2005

SINGLE ROOM:

$120 US Dollars per room per night.

DOUBLE ROOM:

$120 US Dollars per room per night.

EXTRA PERSON SHARING SAME ROOM:

$20 US Dollars per night.

HONEYMOON JR. SUITES (Queen bed):

$150 US Dollars per room per night.

MASTER SUITE (One King size bed or two double beds):

$170 US Dollars per room per night.

Prices do not include taxes.